Safety information
Before you work on any MikroTik equipment, be aware of the hazards involved with electrical circuitry, and be familiar with standard practices for preventing accidents. The installer should be familiar with network structures, terms, and concepts.
This equipment is to be installed by trained and qualified personnel, as per these installation instructions. The installer is responsible for making sure, that the Installation of the equipment is compliant with local and national electrical codes. Do not attempt to disassemble, repair, or modify the device.
We cannot guarantee that no accidents or damage will occur due to the improper use of the device. Please use this product with care and operate at your own risk!
In the case of device failure, please disconnect it from power. The fastest way to do so is by unplugging the power cable from the power outlet.
Information
Technical specifications, brochures, and more info about products at https://mikrotik.com/products
If you need help with configuration or installation, please seek a consultant https://mikrotik.com/consultants
Powering 
The unit accepts power from an AC source:
Input: 100-240V ~ 50/60Hz.


Output: 
| | |
| --- | --- |
| DC output voltage (V) | 12 |
| DC output current (A) | 5 |
| DC output power (W) | 60 |
Installation
Push blue anchor to the right side and pull out old PSU: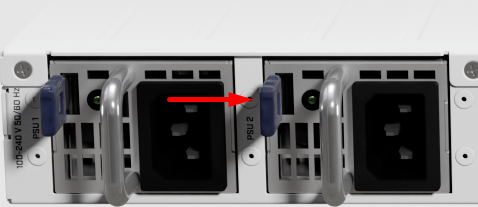 Install replacement unit by inserting into position and pushing in until blue anchor locks.
The PSU can be replaced while the device is operating.
Operation Environment
Operating temperature: -40°C to 70°C 
Ingress Protection - IP 20


WARNING. Warning statements identify conditions or practices that could result in injury or loss of life.
Symbols on the Product
The following symbols may appear on the product:
HIGH VOLTAGE: This symbol indicates high voltage. It calls your attention to items or operations that could be dangerous to you and other people operation this equipment. Read the message and follow the instructions carefully.

Do not dispose of electronic equipment as unsorted municipal waste. Please use a separate collection facility or contact the supplier from which this instrument was purchased.

CE Declaration of Conformity
Manufacturer: Mikrotikls SIA, Brivibas gatve 214i Riga, Latvia, LV1039.
The full text of the EU declaration of conformity is available at the following internet address: https://mikrotik.com/products

Note. The information contained here is subject to change. Please visit the product page on
www.mikrotik.com
for the most up to date version of this document.