UP1302C-12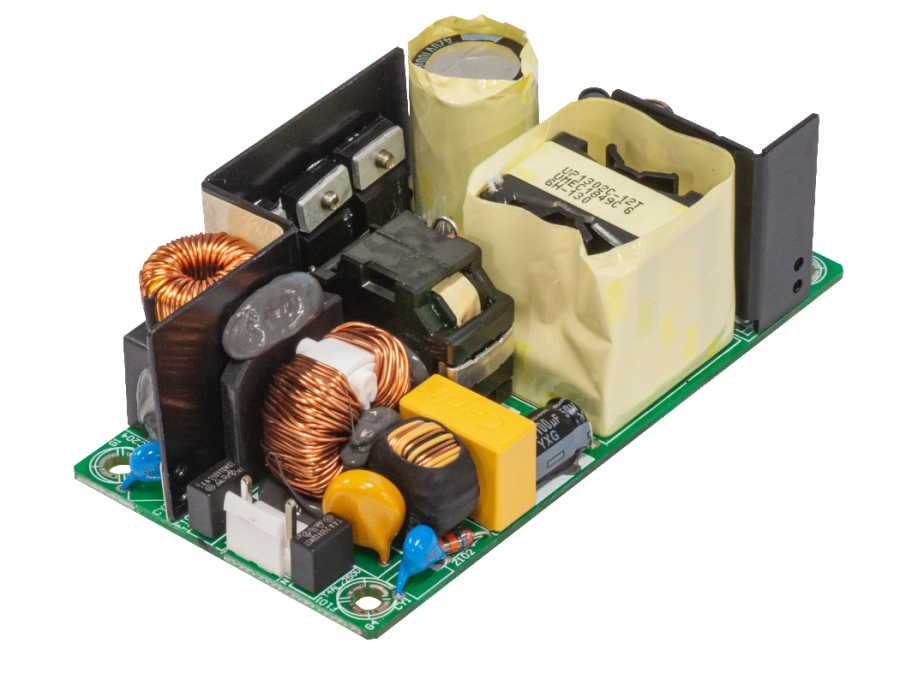 UP1302C-12 internal power supply for CCR1036 series.
Usage
UP1302C-12 act as a replacement power unit for the following devices, only r2 revisions:
CCR1036-12G-4S
CCR1036-12G-4S-EM
CCR1036-8G-2S+
CCR1036-8G-2S+EM
Specifications
Open frame PSU 12 V DC ⎓ 10.8 A 130 W, 90-264 Vac 90 % 55x106x34 mm.
Installing
Each of the units comes in ESD protective packaging. Installing should be done by a qualified person, please follow safety precautions when handling electrical equipment:
Use a wrist grounding strap when unpacking and working with electrical components to avoid electrical discharge (ESD) damage;
Remove the top cover from the CCR1036 device to access the power supply unit;
Unplug wires from the supply unit leading to PCB;
Unscrew four screws and remove the old unit;
Place UP1302C-12 into the CCR and secure it with previously removed screws;
Attach supply cable to the white connector;
Install to cover into its original position and secure with screws.
Safety Notice
Electric shock hazard. This equipment is to be serviced by trained personnel only.
For more information about this product visit our web page: https://mikrotik.com/product/UP1302C-12
UKCA marking
Eurasian Conformity Mark
Информация о дате изготовления устройства указана в конце серийного номера на его наклейке через дробь. Первая цифра означает номер года (последняя цифра года), две последующие означают номер недели.
Изготовитель: Mikrotikls SIA, Aizkraukles iela 23, Riga, LV-1006, Латвия, support@mikrotik.com. Сделано в Китае, Латвии или Литве. Cм. на упаковке.
Для получения подробных сведений о гарантийном обслуживании обратитесь к продавцу. Информация об импортерах продукции MikroTik в Российскую Федерацию: https://mikrotik.com/buy/europe/russia
Продукты MikroTik, которые поставляются в Евразийский таможенный союз, оцениваются с учетом соответствующих требований и помечены знаком EAC, как показано ниже:
Norma Oficial Mexicana
EFICIENCIA ENERGETICA CUMPLE CON LA NOM-029-ENER-2017.
La operacion de este equipo esta sujeta a las siguientes dos condiciones:
Es posible que este equipo o dispositivo no cause interferencia perjudicial y.

Este equipo debe aceptar cualquier interferencia, incluyendo la que pueda causar su operacion no deseada.
Fabricante: Mikrotikls SIA, Brivibas gatve 214i, Riga, LV-1039, Latvia.
País De Origen: Letonia; Lituania; China (Republica Popular); Estados Unidos De America; Mexico.
Por favor contacte a su distribuidor local para preguntas regionales específicas. La lista de importadores se puede encontrar en nuestra página de inicio – https://mikrotik.com/buy/latinamerica/mexico.
CE Declaration of Conformity
Manufacturer: Mikrotikls SIA, Brivibas gatve 214i Riga, Latvia, LV1039.
The full text of the EU declaration of conformity is available at the following internet address: https://mikrotik.com/products

Note. The information contained here is subject to change. Please visit the product page on
www.mikrotik.com
for the most up to date version of this document.