Safety information
Before you work on any MikroTik equipment, be aware of the hazards involved with electrical circuitry, and be familiar with standard practices for preventing accidents. The installer should be familiar with network structures, terms, and concepts.
This equipment is to be installed by trained and qualified personnel, as per these installation instructions. The installer is responsible for making sure, that the Installation of the equipment is compliant with local and national electrical codes. Do not attempt to disassemble, repair, or modify the device.
We cannot guarantee that no accidents or damage will occur due to the improper use of the device. Please use this product with care and operate at your own risk!
In the case of device failure, please disconnect it from power. The fastest way to do so is by unplugging the power adapter from the power outlet.
Contact time to touch PSU will be (> 1 s and < 10 s).
Information
Technical specifications, brochures, and more info about products at https://mikrotik.com/products
If you need help with configuration or installation, please seek a consultant https://mikrotik.com/consultants
Powering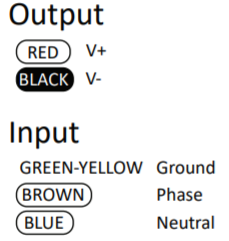 The device accepts power from an AC source:
Input: 100-240V ~ 50/60Hz.


Output: 
| | MTP250-26V94-OD | MTP250-53V47-OD |
| --- | --- | --- |
| DC output voltage (V) | 26 | 53 |
| DC output current (A) | 9.4 | 4.7 |
| DC output power (W) | 244 | 249 |
Installation
For installation Use a CU wire of at least 1.2 square millimeters for the DC output.
On the input side, 100-240V ~ 50/60Hz connect MTP250 series PSU to RCD.
Mounting
Use provided steel clamp and guide through holes then secure the device to the mast.

Or use provided screws and secure device to the wall, use dowels depending on the wall material.
Accessories
The package includes:
CLAMP1-2_ Hose Clamp SUS304 (Philips type; 9mm; clamping diameter range 25-70mm) with EPE bag.
SET1_ K-77 Fastening set.
Operation Environment
Operating temperature: -40°C to 70°C 
Ingress Protection - IP 67


WARNING. Warning statements identify conditions or practices that could result in injury or loss of life.
Symbols on the Product
The following symbols may appear on the product:
HIGH VOLTAGE: This symbol indicates high voltage. It calls your attention to items or operations that could be dangerous to you and other people operation this equipment. Read the message and follow the instructions carefully.

Double insulated.

Do not dispose of electronic equipment as unsorted municipal waste. Please use a separate collection facility or contact the supplier from which this instrument was purchased.

CE Declaration of Conformity
Manufacturer: Mikrotikls SIA, Brivibas gatve 214i Riga, Latvia, LV1039.
BG

С настоящото Mikrotīkls SIA декларира, че този тип радиосъоръжение MTP250-26V94-OD/53V47-OD е в съответствие с Директива 2014/30/ЕС. Цялостният текст на ЕС декларацията за съответствие може да се намери на следния интернет адрес:

https://mikrotik.com/products

CS

Tímto Mikrotīkls SIA prohlašuje, že typ rádiového zařízení MTP250-26V94-OD/53V47-OD je v souladu se směrnicí 2014/30/EU. Úplné znění EU prohlášení o shodě je k dispozici na této internetové adrese:

https://mikrotik.com/products

DA

Hermed erklærer Mikrotīkls SIA , at radioudstyrstypen MTP250-26V94-OD/53V47-OD er i overensstemmelse med direktiv 2014/30/EU. EU-overensstemmelseserklæringens fulde tekst kan findes på følgende internetadresse:

https://mikrotik.com/products

DE

Hiermit erklärt Mikrotīkls SIA , dass der Funkanlagentyp MTP250-26V94-OD/53V47-OD der Richtlinie 2014/30/EU entspricht. Der vollständige Text der EU-Konformitätserklärung ist unter der folgenden Internetadresse verfügbar:

https://mikrotik.com/products

EL

Με την παρούσα ο/η Mikrotīkls SIA , δηλώνει ότι ο ραδιοεξοπλισμός MTP250-26V94-OD/53V47-OD πληροί την οδηγία 2014/30/ΕΕ. Το πλήρες κείμενο της δήλωσης συμμόρφωσης ΕΕ διατίθεται στην ακόλουθη ιστοσελίδα στο διαδίκτυο:

https://mikrotik.com/products

EN

Hereby, Mikrotīkls SIA declares that the radio equment type MTP250-26V94-OD/53V47-OD is in compliance with Directive 2014/30/EU. The full text of the EU declaration of conformity is available at the following internet address:

https://mikrotik.com/products

ES

Por la presente, Mikrotīkls SIA declara que el tipo de equo radioeléctrico MTP250-26V94-OD/53V47-OD es conforme con la Directiva 2014/30/UE. El texto completo de la declaración UE de conformidad está disponible en la dirección Internet siguiente:

https://mikrotik.com/products

ET

Käesolevaga deklareerib Mikrotīkls SIA , et käesolev raadioseadme tüüp MTP250-26V94-OD/53V47-OD vastab direktiivi 2014/30/EL nõuetele. ELi vastavusdeklaratsiooni täielik tekst on kättesaadav järgmisel internetiaadressil:

https://mikrotik.com/products

FI

Mikrotīkls SIA vakuuttaa, että radiolaitetyyppi MTP250-26V94-OD/53V47-OD on direktiivin 2014/30/EU mukainen. EU-vaatimustenmukaisuusvakuutuksen täysimittainen teksti on saatavilla seuraavassa internetosoitteessa:

https://mikrotik.com/products

FR

Le soussigné, Mikrotīkls SIA , déclare que l'équipement radioélectrique du type MTP250-26V94-OD/53V47-OD est conforme à la directive 2014/30/UE. Le texte complet de la déclaration UE de conformité est disponible à l'adresse internet suivante:

https://mikrotik.com/products

HR

Mikrotīkls SIA ovime izjavljuje da je radijska oprema ta MTP250-26V94-OD/53V47-OD u skladu s Direktivom 2014/30/EU. Cjeloviti tekst EU izjave o sukladnosti dostupan je na sljedećoj internetskoj adresi:

https://mikrotik.com/products

HU

Mikrotīkls SIA igazolja, hogy a MTP250-26V94-OD/53V47-OD típusú rádióberendezés megfelel a 2014/30/EU irányelvnek. Az EU-megfelelőségi nyilatkozat teljes szövege elérhető a következő internetes címen:

https://mikrotik.com/products

IT

Il fabbricante, Mikrotīkls SIA , dichiara che il tipo di apparecchiatura radio MTP250-26V94-OD/53V47-OD è conforme alla direttiva 2014/30/UE. Il testo completo della dichiarazione di conformità UE è disponibile al seguente indirizzo Internet:

https://mikrotik.com/products

IS

Hér með lýsir Mikrotīkls SIA því yfir að MTP250-26V94-OD/53V47-OD er í samræmi við grunnkröfur og aðrar kröfur, sem gerðar eru í tilskipun 2014/30/EU.
Fullur texti ESB samræmisyfirlýsingar er að finna á eftirfarandi veffangi:

https://mikrotik.com/products

LT

Aš, Mikrotīkls SIA , patvirtinu, kad radijo įrenginių tipas MTP250-26V94-OD/53V47-OD atitinka Direktyvą 2014/30/ES. Visas ES atitikties deklaracijos tekstas prieinamas šiuo interneto adresu:

https://mikrotik.com/products

LV

Ar šo Mikrotīkls SIA deklarē, ka radioiekārta MTP250-26V94-OD/53V47-OD atbilst Direktīvai 2014/30/ES. Pilns ES atbilstības deklarācijas teksts ir pieejams šādā interneta vietnē:

https://mikrotik.com/products

MT

B'dan, Mikrotīkls SIA , niddikjara li dan it-tip ta' tagħmir tar-radju MTP250-26V94-OD/53V47-OD huwa konformi mad-Direttiva 2014/30/UE. It-test kollu tad-dikjarazzjoni ta' konformità tal-UE huwa disponibbli f'dan l-indirizz tal-Internet li ġej:

https://mikrotik.com/products

NL

Hierbij verklaar ik, Mikrotīkls SIA , dat het type radioapparatuur MTP250-26V94-OD/53V47-OD conform is met Richtlijn 2014/30/EU. De volledige tekst van de EU-conformiteitsverklaring kan worden geraadpleegd op het volgende internetadres:

https://mikrotik.com/products

NO

Mikrotīkls SIA erklærer herved at utstyret MTP250-26V94-OD/53V47-OD er i samsvar med de grunnleggende krav og øvrige relevante krav i direktiv 2014/30/EU. Den fulle teksten til EU-samsvarserklæringen er tilgjengelig på følgende internettadresse:

https://mikrotik.com/products

PL

Mikrotīkls SIA niniejszym oświadcza, że typ urządzenia radiowego MTP250-26V94-OD/53V47-OD jest zgodny z dyrektywą 2014/30/UE. Pełny tekst deklaracji zgodności UE jest dostępny pod następującym adresem internetowym:

https://mikrotik.com/products

PT

O(a) abaixo assinado(a) Mikrotīkls SIA declara que o presente tipo de equipamento de rádio MTP250-26V94-OD/53V47-OD está em conformidade com a Diretiva 2014/30/UE. O texto integral da declaração de conformidade está disponível no seguinte endereço de Internet:

https://mikrotik.com/products

RO

Prin prezenta, Mikrotīkls SIA declară că tipul de echipamente radio MTP250-26V94-OD/53V47-OD este în conformitate cu Directiva 2014/30/UE. Textul integral al declarației UE de conformitate este disponibil la următoarea adresă internet:

https://mikrotik.com/products

SK

Mikrotīkls SIA týmto vyhlasuje, že rádiové zariadenie typu MTP250-26V94-OD/53V47-OD je v súlade so smernicou 2014/30/EÚ. Úplné EÚ vyhlásenie o zhode je k dispozícii na tejto internetovej adrese:

https://mikrotik.com/products

SL

Mikrotīkls SIA potrjuje, da je tip radijske opreme MTP250-26V94-OD/53V47-OD skladen z Direktivo 2014/30/EU. Celotno besedilo izjave EU o skladnosti je na voljo na naslednjem spletnem naslovu:

https://mikrotik.com/products

SV

Härmed försäkrar Mikrotīkls SIA att denna typ av radioutrustning MTP250-26V94-OD/53V47-OD överensstämmer med direktiv 2014/30/EU. Den fullständiga texten till EU-försäkran om överensstämmelse finns på följande webbadress:

https://mikrotik.com/products